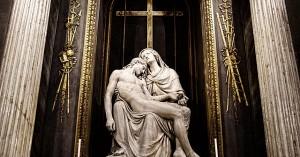 One thing that has lately been irritating me about American culture is the perverse habit some have of setting two necessary values in opposition to each other that were meant to live in tense and discomfiting balance.* Godly wisdom, which you would get through education and thinking about stuff, would help you know which way to tilt without absolutely letting go of the other value. Faith and Science, Liturgy and Sincerity, Law and Gospel, Beauty and Pragmatism—I could go on but I won't.
The corrupt confusion of self-care is the preeminent expression of this. OF COURSE, it is important to care for yourself. You must eat and sleep and put clothes on at the very least. Better even is to take some exercise and go to church. But then you, or is it me, confuse the "care" part with the "indulgence" ruse and think that maybe it is too selfish to spend an hour working out and also, because you're hungry, you might as well eat whatever is lying around on the kitchen table.
You're probably not too confused, however, when faced with trying to bring up a child in the way he should go. Teaching him to care for himself is the essential task of raising a child into an adult. You want the little tyke to be able to feed and bathe himself, and, for the love of God and all his heavenly hosts, do his own laundry so that he can go about in society. Almost everything about parenting is teaching other people to care for themselves so that you don't have to. This, I'm pretty sure, used to be called Just Being Human, but now it's called self-care because some people, lacking in wisdom, over-emphasized and muddled the self-sacrificial part of life to such a degree that foolish people forgot about the self-caring part.**
On the other hand, Self-Sacrifice, OF COURSE, is the bedrock of human civilization. Putting the needs and concerns of other people before your own is how children even come into the world in the first place. The mother sublimates her instinctual care of herself in favor of prolonging the life of her infant by caring for him. The great sickening lie of abortion is that self-care and self-sacrifice are diametrically opposed to each other, and that you must choose, or something essential about yourself will be lost. Which just isn't true. The child you hold in your body and your arms is himself, even though you sacrifice yourself for him, going to expand everything in the best possible way–not only your waist–with his troubling and inconvenient self.
I'm saying 'him' not because I'm a sexist but because I have two teenage boys and a lot more of my time is spent foisting the "self-care" portion of their lives back onto them then it is for girls who, for reasons I don't quite understand, seem instinctually to understand the need to wear clean clothes or at least bring their laundry down before they need their good jeans. Where was I?
Ok, so, what I am working around to is the fact that modern western people "care" for themselves in all kinds of dysfunctional ways, but the way to remedy that is not to continue to malign and impugn the self-sacrifice end of the pendulum.
Put yourself first, admonishes Rachel Hollis (and everybody else). Ain't nobody happy if momma ain't happy– which just isn't true. Most people are able to carry on being happy even if their mothers are not finding their bliss. Where they become unhappy is when their mothers punish them by themselves childishly living as though they themselves were the very center of the universe. Child, Mother, and Father all collide over the dinner table and then retreat into their phones and then wonder why family life is such a misery.
Don't worry, I don't approve of the Transformed Wife. That's not what I'm saying.
What I am saying is first that of course you have to take care of yourself, but that doesn't preclude you sacrificing yourself for the sake of others. And second, that most of us don't really need to worry about it, if we're honest, because of the fundamental orientation of the self—toward the self—means the instinct for self-preservation kicks in in the nick of time, sparing us from absolutely dying for the sake of others.
And also, third, it all depends on your point of view. Both Rachel Hollis and I have given birth to children, and both catastrophically missed that magical epidural at least once. Now, I never wanted to hear myself roar and embrace my strength. When I reach down inside myself, all I find is a small voice crying for a slice of pie. But looking at the task in front of me I discovered that I was going to have to make a choice to die so that another person, my child, could have life. Not completely, of course. I didn't actually die. But I had to say no to myself to say yes to another. As I faced that choice I saw, in a new way, what it was that Jesus did on the cross. He died so that I might live. It was a choice he made against himself and for me, one that, when I was invited to make it, every corner of my flesh cried out against. Every molecule of my body chooses my own life against that of all others. I have to stop and grasp on to the one who gave me life in order to be able to face a death that can bring life.
Rachel Hollis also missed her epidural and faced the same choice. But she didn't look at the cross. She realized that what she wanted for her children was to see that because she was strong, they could be strong. She reached down and found strength and that was important for her child because she wants him to know that he has a mother who doesn't let herself down. In this way, he will see that he can trust himself, can keep promises to himself, can choose himself. Strength, not death, was the touchstone of that painful birth. She overcame suffering and showed herself that she could do it.
Same circumstances, completely different worldview. And, I would argue, the second doesn't allow the nuance and trouble of navigating something as tenuous and complicated as the tightrope between self-care and self-sacrifice. The second looks nicer and more triumphant, but in the end, you are still left with yourself and your own diminishing strength which will eventually be altogether gone when you go down into the grave. The first looks ghastly and defeatist. And yet, the triumph is the cross, is the deeper and fuller knowledge of Jesus whose strength was made plain in his death. As the body weakens and the mind grows dim, his power never diminishes. His life brings you over the threshold of the grave into eternal life.
So anyway, go to church.
* I'm pretty sure that Jen Pollock Michal has said this better in her book, Paradox, which I haven't had a chance to read yet, so if this seems completely redundant, don't blame me. I'm going to read the book someday, and when I do, I will put large quotes here.
**cough, snow-plow parenting, cough