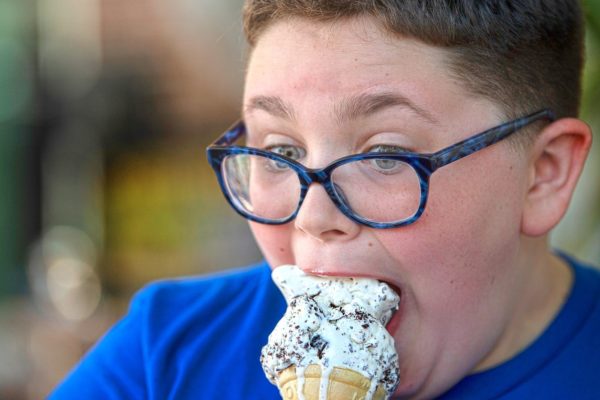 Five-year-old Tucker Piotrowski sat in the shade on the corner of Letitia and Market Streets in Philadelphia's Old City on Sunday and took a big slurp of the chocolate milkshake that he grasped in his little hands.
Behind him, small groups of locals and tourists fanned themselves under trees and hunched under awnings, attempting to shield themselves from the sun as the afternoon temperature inched toward — but never reached — 100. All of them — intentionally or not — had arrived at Franklin Fountain, an old-fashioned ice cream parlor, on the most apt day: National Ice Cream Day, a national holiday since 1984 when then-President Ronald Reagan declared it so. ("Ice cream is a nutritious and wholesome food," Reagan wrote in the proclamation that made it a holiday.)
"Yummy!" a smiling Tucker shouted after taking another gulp of his milkshake, a ring of ice cream coating his lips. He was joined by his parents, Mike and Cathy, and 3-year-old sister, Scarlett.
"We were just having a fun summer day," Cathy said of their motivation for an outing from their Fairmount home for something creamy and sweet. Said Mike: "We drove by here and there was no line for the first time ever."
Whether it was to beat the heat, or for the free sprinkles, those who did make Franklin Fountain part of their Sunday seemed unfazed — and certainly undeterred — by the city's public education campaign, which was just debuted, which aims to curb consumption of sugary snacks, especially by kids.
At a news conference last week, Philadelphia Health Commissioner Thomas A. Farley announced the new education initiative, aimed at residents' behaviors — and waistlines — rather than their wallets. Compared with the city's controversial soda tax, passed in 2016, the health campaign, using television, social media, and billboard public service announcements, will attempt to inform residents of the health risks tied to sugar consumption — including obesity, diabetes, and heart disease.
In interviews outside Franklin Fountain, many patrons lauded the new health campaign for being a step in the right direction and agreed that it was an important message for Philadelphians to hear. Still, many also said that the complications surrounding healthy eating tend to extend beyond food choice, and are intertwined with financial circumstances, poverty levels, parenting schedules, and food access. Those problems are especially prominent in a city such as Philadelphia, where the poverty rate hovers at 26 percent and where many residents lack supermarket access.
"For some people it might be [effective] if they really have the means to make a change in their life," said Cathy Piotrowski, Tucker's mother. "But the people who this is targeted at maybe do not have the access or the means to buy healthy food."
It was a message that South Philadelphians Lizzy Wingfield, 29, and Jonathan Chicot, 32, agreed with. The pair had arrived at Franklin Fountain on Sunday afternoon with Chicot's 13-year-old nephew Connor Capwill, in town from Racine, Wisc. After a lunch of cheesesteaks at Campo's in Old City, they stopped for a quick dessert "on a whim" before heading on to an afternoon of museums — and air conditioning.
As ice cream dripped down the side of Capwill's chocolate chip ice cream cone, splashing onto the sidewalk, Wingfield explained that although she thinks "it's a good idea for kids to eat healthier, obviously," she believes that previous campaigns that she's aware of that have tried to limit sugar use have been limited by big-business lobbying. She pointed to former first lady Michelle Obama's anti-obesity campaign, which faced fierce lobbying efforts after she announced in 2010 that she would take on the misleading ads for sugary snacks and fast food.
A "sin tax is something that I think is such a Band-Aid sometimes," Chicot said, referring to a tax on "sinful" or "harmful" goods, such as tobacco, alcohol, and gambling. "The problem I see is that we have childhood obesity, we have underfunded public schools, we have a lot of societal ill in the country and in the city … but [a tax] is just sort of painting over such an underlying problem."
In 2016, Philadelphia became the first major U.S. city to implement a sugary-beverages tax — commonly known as the soda tax — which adds 1.5 cents an ounce to the cost of most drinks with a sugar or artificial sugar sweetener. In return, the tax is designed to fund universal pre-K, community schools, and Rebuild, a program designed to improve the city's parks, recreation centers, and libraries.
Yet since the soda tax's implementation, it's been the subject of widespread criticism, debate, and legal challenges. Various studies about the tax's effects have been released. Still, the soda tax has withstood all threats to date.
Philadelphia's new public health campaign is far more politically palatable than the soda tax — but the results, in contrast, can be more difficult to track. That, in turn, has raised questions nationwide about the effectiveness of such campaigns.
Even so, the city's new campaign — including its website FoodFitPhilly.org — takes a strong stance on sugar consumption. One already released video, which urges kids to swap sugary snacks with healthier food choices, begins with the warning, "Today's after-school snack could be tomorrow's diabetes."
For 52-year-old Crystal Goodwyn, who visited Franklin Fountain on Sunday with her 6-year-old daughter, Gabbi, her job is a little easier, she admits: Gabbi isn't a big junk food eater.
"I try to monitor what she's eating and want her to have certain things," said Goodwyn, who was in Philadelphia for the day from Richmond, Va. "Gabbi doesn't like chocolate."
Then, she paused and laughed, and looked across the table at Gabbi. "Ice cream? That's a different story."