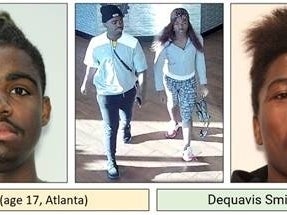 A group of teens (dressed as women) would visit Gwinnett fitness centers seeking gym memberships and steal car keys and cars from members.
|
LAWRENCEVILLE, GA – The Gwinnett County Police Department needs the public's help in finding a group of males, dressed as women, who have been stealing items and vehicles from local fitness gyms, and then committing credit card fraud.
During November and December of 2019, detectives identified a series of thefts at local gyms that were similar.
In these cases, a group of young men (dressed as women) would visit local fitness centers seeking gym memberships. While they were there, they would steal car keys from unsuspecting customers and then steal their vehicles in the parking lot.
11/27/19 – Planet Fitness – 1900 Rockbridge Road, Stone Mountain
12/18/19 – Gold's Gym – 860 Duluth Highway, Lawrenceville
12/22/19 – LA Fitness – 3420 Buford Drive, Buford
12/28/19 – LA Fitness – 6131 Peachtree Parkway, Peachtree Corners
Some of the patrons left credit cards in their cars. Shortly after the vehicle thefts, the customers would notice fraudulent purchases made using the stolen credit cards.
Once the case was assigned to a detective, he identified two of the suspects as Tarquinnious Mack, 17, of Atlanta and Dequavis Smith, 18, of Atlanta. Both have outstanding felony theft and fraud warrants.
Police are looking into the possibility that other suspects could be involved in this crime series.
Some of the vehicles have since been recovered in Atlanta.
If anyone knows of Smith's or Mack's whereabouts or knows who else could be involved, please contact GCPD detectives at 770-513-5300.
To remain anonymous, tipsters should contact Crime Stoppers at 404-577-TIPS (8477) or visit .
Crime Stoppers tipsters can receive a cash reward for information leading to an arrest and indictment in this case. Case Number: 19-109915, 19-116857, 19-118032, and 19-120008