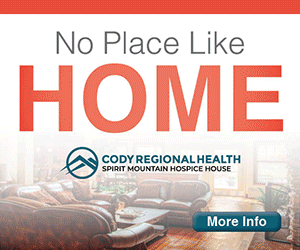 By Tessa Baker
As kids return to school in a few weeks, they'll miss seeing some familiar faces.
This summer, the Powell school board recognized 10 retiring educators, who shared a combined total of 272 years of experience in local schools.
"On behalf of the board and the school district, we would just like to say thank you for all the years that you've given us," said Greg Borcher, chairman of the Park County School District No. 1 Board of Trustees.
The board presented retirees with bells in June and congratulated them while keeping social distance.
"No hugs, no kisses, but lots of well wishes," Borcher said.
Cliff Boos, 42 years
As Park 1's diagnostician, "you won't find a more well-respected or salt of the earth employee than Mr. Boos," said Ginger Sleep, special services director.
Year after year, Boos evaluated individual students and shared results with teams and families. At evaluation and IEP (individualized education program) meetings, Boos "demonstrated a high level of professionalism, kindness, and eagerly shared a student's strengths along with specific compliments …" Sleep said.
"His quiet strength, constant drive, and positive attitude is what legends are made of and is a true testament to his allegiance to the students, athletes, staff, and families in PCSD No. 1," she said.
During his 42 years in Powell schools, Boos became known to many as "Coach Boos." Sleep said he served as her track coach during her PHS days, and she remembers him as the "official record keeper" for track and field.
"His positive and encouraging words consistently spurred on us tracksters, and his Panther Pride was ever-present!" Sleep said.
She said Park 1 students and staff will miss his smile, light-hearted humor, innate ability to connect and the special stories he shared about PHS athletes, as well as current sports team information (especially the Green Bay Packers). Boos also will be missed for "his quintessential way of seeing the very best in every single person," Sleep said.
Carol Johnston, 36 years
Carol Johnston's career in education spanned 36 years, "and there is no way to replace that kind of wisdom and wonderful impact on hundreds and hundreds of kids," said Scott Schiller, principal of Southside Elementary School.
As the library clerk, Johnston was known for her ability to make a story come to life, and it was often said, "Nobody can tell a story like 'Carol J!'" Schiller said.
When kids entered Southside's library, "they entered this magical land of storytelling and Mrs. J and her rocking chair," he said.
"Carol was excellent at engaging students from the moment they came to the library to look for a good book," Schiller said, adding, "She always knew just what they needed to read."
When it was story time, kids were able to listen to Johnston's rendition of an old story or a holiday classic, or a new story that she introduced — whether it was about a real person or aliens or favorite pets.
"Mrs. J's undeniable appeal to our students through her storytelling and calm and caring personality will be missed dearly by all," Schiller said. "… We wish her the best that retirement can offer. Maybe she'll write a book!"
Marsha Neubert, 31 years
Following 19 years as a PE teacher in Powell schools, Marsha Neubert spent the last 12 years teaching health to elementary students.
Neubert motivated kids to be fit, eat well, take care of their bodies, and avoid harmful activities and substances, said Angie Woyak, principal at Westside Elementary School.
As she taught all grades in four elementary schools, Neubert had an impact on over 800 kids each year.
"When you think about the challenges of teaching upwards [of] 800 kids a year and knowing their names, and adjusting to the wide age ranges, you begin to understand that she is an angel of patience, and she truly loves children," Woyak said. "Her gift of kindness is quietly given, and she does it with no expectation other than to bring a little joy into somebody's day."
Neubert stayed on top of current health issues and concerns, always addressing them in her curriculum.
"She has had a knack for sparking students' interests, listening to their ideas and answering their questions in an honest way," Woyak said. "And you can imagine the questions that come up in a health class."
Neubert never forgets former students, and saves little mementos that she'll send years later. She also "carries on the lovely tradition of crafting handwritten notes," Woyak said.
Neubert had "an incredibly positive influence across all of our schools."
Carol Dunn, 29 years
In 29 years with Park 1, Title I para-educator Carol Dunn "had a long and amazing career" said Southside Principal Schiller.
Dunn helped many primary grade children learn to read and how to be good students.
"Her impact was not just with the young children but also with our older students as well — helping students in intervention groups in the areas of reading, writing and math," Schiller said.
Southside received the prestigious Distinguished Title I School Award in 2013, and the principal said "Carol played an instrumental role in our students' overall outstanding academic achievements."
"We will miss Carol dearly because of the impact she had on our students and their success in school and life," Schiller said.
John Miller, 28 years
When talking about John Miller's influence on the community and students over the past 28 years, Powell Middle School Principal Kyle Rohrer quipped that he was "preaching to the choir," since many Powellites had Miller as a teacher.
Miller taught choir at the middle school and high school and always went above and beyond, outside of the regular hours, said Rohrer. Miller met with students around their schedules "at all hours of the day to serve what their needs were."
"He put in tons of time," agreed PHS Principal Tim Wormald. "As you all know, with your concerts and your own children performing in those, everything needed to be just right, always a class act."
Powell's choirs "have been at the top of the state for many, many years," he said.
"But more than the way the kids performed and more than the level that our choir was at," Wormald described Miller as a "quality human being — always friendly, always upbeat, always acted with integrity."
Miller "is very much going to be missed," he said.
Miller's career in education spanned 41 and a half years, starting in Cokeville and then Powell; he called it "a wonderful time."
Miller talked about the importance of encouraging students. He received an anonymous note from a student that said, "Mr. Miller helped me believe in myself."
"And I think that's what any of us as teachers, administrators — that's what we hope to do," he said, thanking his colleagues and the board.
Tim Brus, 25 years
During his 25 years as a fifth grade teacher, Tim Brus "had a tremendous impact on a generation of Parkside students," said Principal Jason Hillman.
"Mr. Brus was an outstanding teacher and used his sense of humor to connect with students," Hillman said.
Brus did a great job helping students understand and excel in mathematics, and his students performed at a high level every year, Hillman said.
"His love for history and social studies was also contagious among his students," he said. "All of his past pupils remember writing a Pearl Harbor paper, and loving it."
The principal also described Brus as "a friend to all on staff."
Brus brightened the days with fun pie charts and top 10 lists for staff, which he would send out every so often. 
"He was always doing something to make Parkside a fun place," Hillman said, adding, "He will be missed!"
Patty Startin, 23 years
In her 23 years working in Powell schools, Patty Startin had an influence on a whole generation of Powell kids, said Principal Hillman.
Startin served as the computer lab manager, and "the kids knew that Patty loved them every day, because she showed them in how she treated them."
Hillman described Startin as always kind.
"I've never heard Patty say a bad thing about anybody," he said. "That's pretty amazing in this day and age."
Startin also is dependable, Hillman said, and a great educator who exceeded expectations. For instance, when Startin made a poster for kids, he said it would be "a masterpiece."
"She knows when every kid qualifies for the marathon, gets their pictures up, makes a special wall for them," Hillman said. "We're going to miss that, Patty."
Startin wouldn't take credit for those projects, he said, "she just did it every day."
"Our school is a better place with you in it," Hillman told Startin at the June meeting. "And I think the people that come in contact with you get to see what true kindness is."
Hillman also shared a note from his daughter, Brynn, who said Startin is "loving, artistic, talented, so nice and makes kids feel special."
"It's been an honor and a privilege," Startin said. "And I appreciate you all."
Lené Acker, 21 years
As Southside teacher Lené Acker retired after 21 years, "I don't think I've seen anybody finish stronger," said Principal Schiller.
"She worked clear to the end, even during our online learning," he said. "It was really magnificent to see."
Each year, Acker helped fifth-graders prepare for the transition to middle school, taking the time to give little life lessons.
She "always considers the whole child," said Schiller, whether it was an at-risk student or something that was social-emotional.
"She never gives up on kids," Schiller said. "I don't know that I've ever walked by her room at any point in the day, whether it was recess, lunch, or some other break of the day for her, that she didn't have students in her classroom working on something."
Acker also has been "quite the leader."
"I've never seen so much unbridled enthusiasm in the classroom," Schiller said.
Fellow fifth grade teacher Christy Landwehr said Acker always did the marathon with the kids.
"It didn't matter if it was rain or shine, she was out there each week walking laps while they ran," Landwehr wrote in a note.
Fifth grade teacher Kellie McCauley said Acker always put her students, team and school first.
"It was a wonderful ride with just amazing kids," Acker said. "I truly consider myself so blessed. Thank you so much."
Kathy Ackley, 21 years
In her 21 years at PHS, administrative assistant Kathy Ackley has answered "thousands upon thousands of phone calls," said principal Wormald.
Ackley is detail-oriented, which is important when it comes to tracking attendance, he said. Bad attendance can be frustrating, "because the same kids are missing over and over again," Wormald said.
"She knows that they need to be in school to learn, and has a heart for the students," he said. "She truly cares about the students."
All of the PHS administrators — Wormald, Steve Lensegrav and Scott McKenzie — have served in the attendance role, and Ackley trained each of them.
Wormald described Ackley as helpful and dependable.
"That level of experience and the knowledge she has, and the intricacies that go along with that — you can't replace that easily at all," Wormald said.
He thanked Ackley for all she's done for PHS students and staff.
"The high school has been the greatest thing in my life other than my family, because that is my family, my second family," Ackley said. "So many kids, and so many people I just love."
She said it's been a pleasure to work with the teachers, administrators and everyone.
"It's hard for me to walk away from it, because it's like leaving my family," Ackley said.
Jolyn Kawano, 16 years
For 16 years, special education para-educator Jolyn Kawano worked with students at various grade levels and schools, "but always adapted to ever changing work conditions and responsibilities because she was there for kids," said Sleep, special services director.
"Her kind heart, soft spoken words, and positive interactions with students and staff made her a valuable employee and co-worker," Sleep said.
Kawano was always eager to learn new ways to help or support students.
"She often shared a smile in working through tough situations," Sleep said. "Her kind spirit will be missed!"