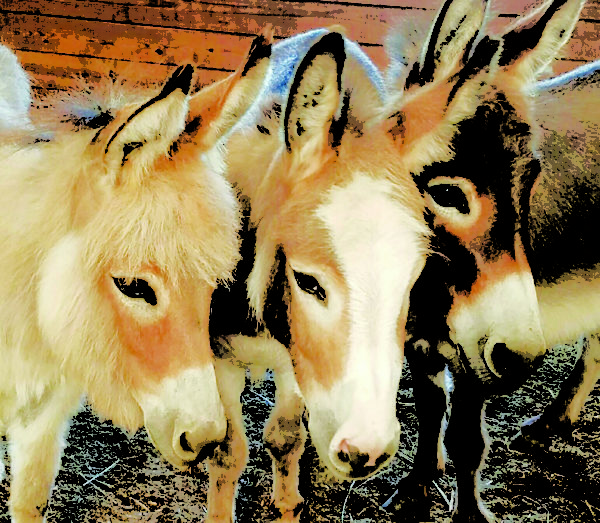 ---
The Haven at Skanda has received a $5000 grant from the Women's Fund of Central New York to develop "Self-Care at Skanda," a four-part workshop series designed to support women who have experienced domestic violence. (submitted)
---
By Kate Hill
Staff Writer
In September, The Haven at Skanda received a $5,000 grant to develop "Self-Care at Skanda," a four-part workshop series for women who have experienced domestic violence.
Located at 4000 Mosley Rd. in Cazenovia, Skanda is an all-volunteer, nonprofit organization dedicated to caring for rescued farm animals and offering educational and preventative programs to the public.
Skanda was one of nine non-profit organizations in Madison, Onondaga and Cayuga counties to be awarded a grant from the Women's Fund of Central New York (WFCNY) — an affiliate fund of the Central New York Community Foundation (CNYCF).
The grants, totaling $45,000, are intended to help fund projects that support the advancement and full participation of women and girls throughout the region.
Since its inception in 1998, the WFCNY has awarded more than $360,000 in grants and has grown its endowment to more than $1 million.
The Haven at Skanda was founded to "provide a loving home to rescued and endangered animals where they can relax, live in their own natural rhythms of life, and emerge into who they really are," according to the organization's website.
Today, the farm is home to 14 horses, 15 goats, 10 miniature donkeys, 30-35 chickens, 50 ducks and one potbelly pig. In November, Skanda will welcome ten 500-pound pigs.
"Our goal with all the animals is to give them total respect," said Ellen Beckerman, Skanda's executive director. "We treat them as sovereign, individual beings, and we see them as equal to us, not less than us. We give them space and freedom to decide how they are going to recover . . . We work really hard to be sensitive to the animals, to follow their lead . . . and to discover what brings them joy."
The organization extended its mission to include serving the public after recognizing the calming effect the animals had on visitors to the farm — including those with anxiety, PTSD, depression and other results of trauma.
"The animals are incredibly supportive, calming and healing," Beckerman said. "When the kids and adults are around the animals something in them changes. They can trust themselves, they can breathe, they can relax and they can start to feel like things might be okay."
Skanda now offers a number of programs that support individuals who have been through traumatic experiences.
"We were working with animals that have been in sometimes terrifying, life-threatening, horrific situations, and now we are working with people who have also been through pretty intense trauma," Beckerman said. "The approach we take with the animals is the same as the way we treat people."
In summer 2018, Skanda received a CNYCF grant to expand its children's program.
Last year, the organization presented a small workshop in partnership with the Liberty Resources Help Restore Hope Center — an initiative that serves those affected by sexual assault, domestic violence or other violent crimes in Madison County and surrounding communities.
"The more programming we do, the more we discover what works and how best to support people with trauma," Beckerman said.
Scheduled for spring 2020, "Self-Care at Skanda" is designed to help female survivors of domestic violence take care of themselves.
The workshops will feature yoga, guided meditation, art projects, crafts, nature walks and a lot of interaction with Skanda's animals — particularly with the miniature donkeys.
"The mini donkeys are so calm and gentle," Beckerman said. "We have noticed that people with intense traumatic experiences [seem to] have profound [connections] with them."
The sessions will also include lessons on animal care and animal sensitivity and communication.
According to Beckerman, each workshop will be designed to give participants as much choice as possible.
"When women have been through serious domestic violence situations, often their ability to make choices has been totally taken away from them," she said. "[During our workshops,] they can opt in, opt out, do what they want and really feel like they are in control of their own experience. That's really important."
The workshops are also designed to celebrate each individual woman and to encourage the participants to put themselves first — perhaps for the first time.
"The survivor of abuse has often learned to put themselves last," Beckerman said. "The [program] will put them front and center and allow them to enjoy, learn, relax, breathe and feel more at ease with themselves."
Another major goal of the program is to cultivate the leadership skills of Skanda's young female volunteers.
According to Beckerman, many of the teenage volunteers have been consistently working with the animals, rain or shine, for several years.
The young women will be responsible for introducing participants to the animals; discussing safety rules; sharing their own personal experiences with the animals; and helping the visitors to get to know the animals.
Through their participation, the teenagers will learn public speaking and facilitation skills and receive a small stipend.
The WFCNY grant will only partially cover the costs of the Self-Care at Skanda program.
To support the program or to learn more about the organization, visit thehavenatskanda.org.
Related
Comment on this Story
---
Lakers fans invited to 'Friday Night Lights' football game Big first half pushes F-M girls soccer past Baldwinsville
---
More in this category
---