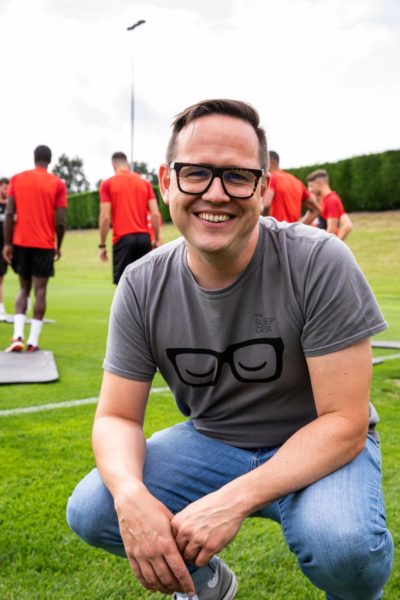 Sleep specialist James Wilson has been lending his know-how to League One club Rotherham as they aim to bounce straight back after relegation from the Championship last season.
Wilson, known as the 'Sleep Geek', has worked with the club since 2017 and believes that, in an elite environment where marginal gains are crucial, rest still does not get the attention it deserves.
Wilson says: "Engaging sports people, particularly football, has sometimes been a real challenge.
"I think we have come up with a way that allows them to understand their sleep better and then allows them to understand what small changes they need to make in their behaviors, their mindset and their environment.
"It is a bit more than a marginal gain, sleep. You get it right and you recover better, you make better decisions in play.
"You can have a longer career, you can earn more money, it is so fundamental to everything we do, it is bigger than a marginal gain. It is the one aspect of an athlete's life that isn't being treated how it should at the moment."
Wilson, who has also worked with Lincoln and Sheffield United as well as corporate clients including with Coca Cola, Red Bull, Pret A Manger, and the Dubai government, admitted that it was difficult initially to engage with the players and encourage them to take his ideas seriously.
However, he had praise for the progressive and inclusive approach to player well-being taken by Rotherham boss Paul Warne.
"The manager has an open culture, it is very much about emotional well-being and emotional intelligence."
He adds: "When I first started, it was quite different there were seminars and I had a room where people would visit me.
People didn't come in because admitting you slept poorly was a sign of weakness.
"We have worked on finding ways to engage players, sleeping better is about behavior change and behavior change only comes with engagement. It is a lot more soft touch now and about me integrating with the squad."
Wilson admits his formative years spent as a trainee with Rotherham were affected by struggles with sleeping and, with his grandfather a mattress seller, fell into the family business after university.
He then trained with a children's sleep charity in Doncaster and has worked with a wide range of high-profile figures and celebrities to improve their sleeping habits.
"My journey was that I saw experts who were patronizing and told me it was my fault, I was doing everything they told me and read everything but it didn't work.
"I would argue my lack of sleep contributed to not making it. A lack of talent may also have contributed!"
Wilson is about to move into the English Institute of Sport in Sheffield, the base for around 15 Olympic sports, as his operations expand.
He is particularly excited about the future advances to be made in the field, and insisted that research in this country remains behind the likes of the U.S.A.
"In America they do a lot around sleep in sport because of time differences across the continent. We still have a lot to learn and we are only just scratching the surface in this field."
Wilson cites veteran Millers defender Richard Wood as a particular success story. When he first met the now 34-year-old, Wood was suffering from parasomnia and would sleepwalk as well as head a football in his sleep.
Adjustments were made and Wood scored twice in the 2018 League One play-off final victory over Shrewsbury at Wembley that secured the club promotion.
 "It was about understanding what trigger those events, temperature regulation. Talking helps, allowing him to talk and diminishing the impact on him.
"In terms of improving his performance? He scored two goals at Wembley.
"He is the one that stands out because it has been part of prolonging his career."