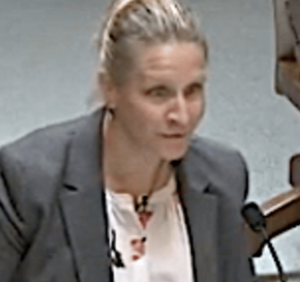 Back in June, a video made the rounds of DOJ attorney Sarah Fabian arguing before the Ninth Circuit that while the law requires the administration keep immigrant children in "safe and sanitary" conditions, those conditions need not include niceties like "beds" or "soap." The argument was pitched to exactly the wrong panel. While you may be thinking that any panel of "human f**king beings" should constitute a bad panel for that argument, this is the federal judiciary in 2019, so there are actually a great many judges who might have rubber-stamped Fabian's argument. Alas, she had to tell a panel including Judge A. Wallace Tashima — who was a child in an internment camp — that kids can be forced to sleep on concrete.
As you might imagine, the argument did not go well.
Today, the Ninth Circuit dismissed the government's case:
In a nutshell, the government was arguing that an order forcing them to extend specific services like toothbrushes exceeded the original Flores agreement and therefore gave the court jurisdiction. The court declined to see basic dignity as such a radical departure from "safe and sanitary" and dismissed the case in an opinion that is remarkably restrained when a hand-scrawled "Are you people serious?!?" over the government's brief would have been a perfectly acceptable response.
The government also argues that the phrase "safe and sanitary" is so vague that either it cannot be enforced…, or it leaves "the specifics of compliance [with paragraph 12A] up to" the government. Not so.

The district court's interpretation of the Agreement is consistent with the ordinary meaning of the language of paragraph 12A, which does provide a standard sufficiently clear to be enforced. The court found, among other things, that minors (1) were "not receiving hot, edible, or a sufficient number of meals during a given day," (2) "had no adequate access to clean drinking water," (3) experienced "unsanitary conditions with respect to the holding cells and bathroom facilities," (4) lacked "access to clean bedding, and access to hygiene products (i.e., toothbrushes, soap, towels)," and (5) endured "sleep deprivation" as a result of "cold temperatures, overcrowding, lack of proper bedding (i.e., blankets, mats), [and] constant lighting." After so finding, the district court concluded that these conditions fall short of paragraph 12A's requirement that facilities be "safe and sanitary," especially given "the particular vulnerability of minors." Those determinations reflect a commonsense understanding of what the quoted language requires. Assuring that children eat enough edible food, drink clean water, are housed in hygienic facilities with sanitary bathrooms, have soap and toothpaste, and are not sleep- deprived are without doubt essential to the children's safety. The district court properly construed the Agreement as requiring such conditions rather than allowing the government to decide whether to provide them.
Now, will the CBP actually comply with the opinion? Sadly that's a different story.
(You can read the whole opinion on the next page.)
Earlier: DOJ Lawyer Earns 15 Minutes Of Infamy Arguing In Front Of Exactly The Wrong Panel
---
Joe Patrice is a senior editor at Above the Law and co-host of Thinking Like A Lawyer. Feel free to email any tips, questions, or comments. Follow him on Twitter if you're interested in law, politics, and a healthy dose of college sports news. Joe also serves as a Managing Director at RPN Executive Search.