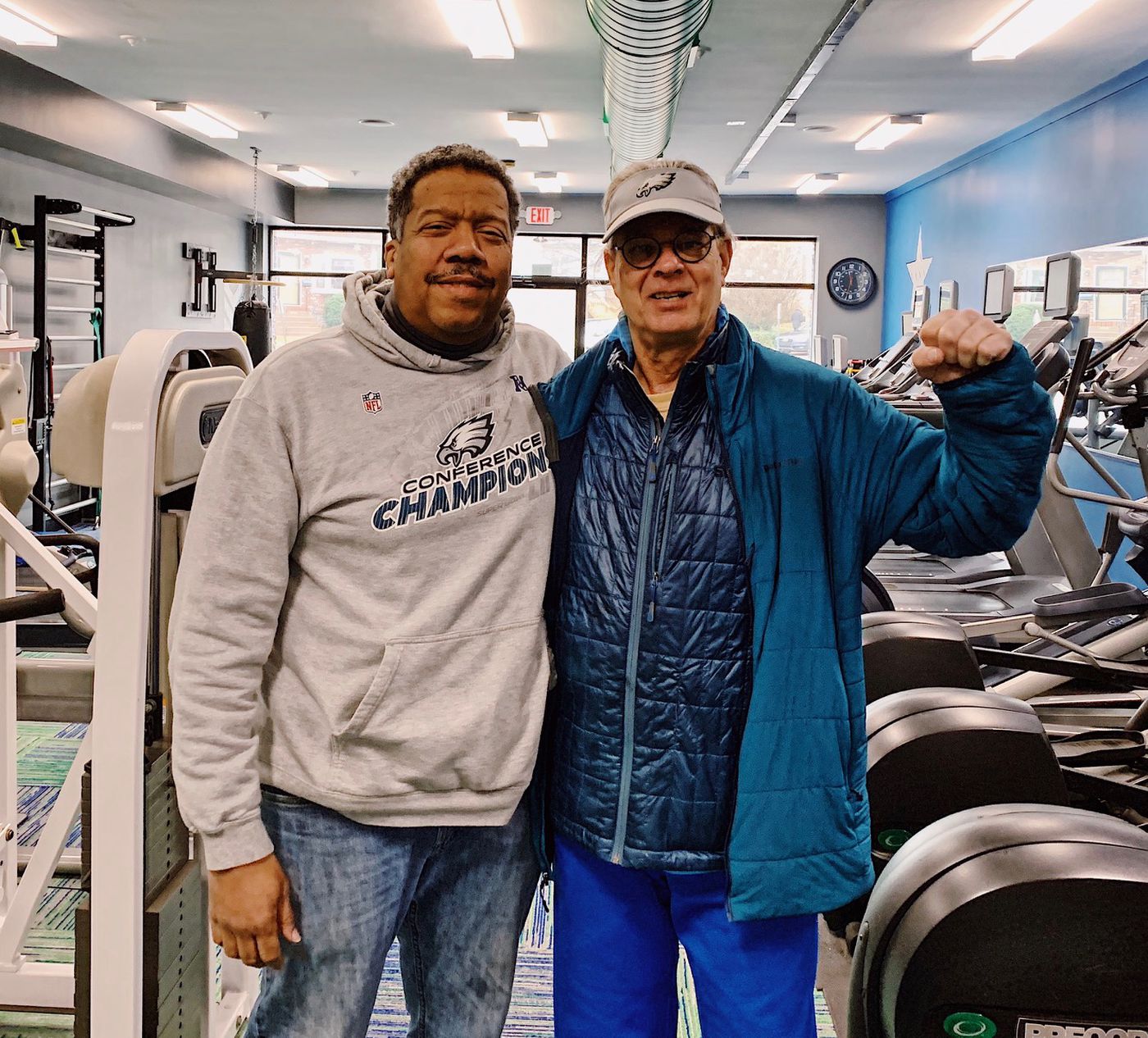 Lance Shelton Jones Sr., a former Philadelphia police officer who also worked as a fitness trainer and security director, died suddenly after a stroke on Oct. 14 at his Philadelphia home. He was 60.
Known as "Shelly," Mr. Jones was born in 1960 to Joyce Dugan Jones and LeRoy B. Jones, a Fairmount Park police officer. He was the third of five children.
Initially, the family lived in West Philadelphia. But because officials wanted to reduce vandalism in the park's historic mansions, they placed park police families into them as caretakers.
The Jones family moved into the Lemon Hill Mansion in East Fairmount Park when Mr. Jones was about 9. They lived on the first floor, and Mr. Jones' mother gave tours of the second and third floors.
One day, as a tour was ending, his mother called Mr. Jones and his siblings upstairs, said Terri Jones, Mr. Jones' wife.
"They went up and saw their mother standing with a tall woman. It was Katharine Hepburn," Terri Jones said.
"He remembered seeing this very tall and very beautiful woman, who was still beautiful as she was getting older."
Later, when Mr. Jones was a student at Episcopal Academy, in Merion, he excelled in track and field and was a two-time Inter-Academic league champion in the hurdles, said his former assistant coach and biology teacher, Crawford Hill.
His wife said living at Lemon Hill helped his sport.
"His dad woke him up early in the morning and had him running up Lemon Hill and around the loop on Kelly Drive," Terri Jones said.
After graduating from Episcopal Academy, Mr. Jones attended Rutgers University at New Brunswick for two years. He transferred to St. Leo's College in Florida, where he also worked as a counselor in an alternative intervention program for troubled young people. He taught them wilderness skills.
In 1985, Mr. Jones joined the Philadelphia Police Academy Class 265, and became a platoon leader. One member of his platoon was a fellow academy cadet, his future wife, Terri.
She said she had noticed him on her first day, but they were too busy to date.
"Our first kind of date was at a graduation party his cousin gave him in February 1986," after they completed police academy training, she said.
They became a couple that year and married in 1991. His wife resigned from the police department after their first child was born. Mr. Jones served from 1985 to 1994, when a work-related back injury ended his police career.
After recuperating from his injury, Mr. Jones worked as a fitness director at Kaiserman Jewish Community Center in Wynnewood and from 2000 to 2013 was a fitness instructor and director of public safety at the Friends Central School.
"People were definitely drawn to come because Lance was there," recalled Amy Krulik, CEO of the Kaiserman JCC. "He was a remarkable person. There was a kindness about him."
For the last several years, Mr. Jones was head of security at Chabad of the Main Line, Rabbi Shraga Sherman said.
Hill, the former high school coach and teacher, said he got back in touch with Mr. Jones 18 months ago after he learned from another student that he was training clients at 3-D Fitness in Narberth.
"That place radiated his concern for everyone," Hill said. He worked out there to get well after his own recent surgeries, with Mr. Jones' help; the student was teaching the teacher. "He was a master at cultivating long, meaningful relationships.
"This is a blow. He just had reentered my life."
Mr. Jones enjoyed having friends and family over to their Wynnefield home for barbecues, Eagles games, and other family gatherings, his wife said. He also played the drums and was fond of fishing.
On vacations, the family loved spending time at beaches in Delaware and in Ocean City, Md.
In addition to his wife and mother, Mr. Jones is survived by a daughter, Sierra, and two sons, Lance Jr. and Nathan; two sisters, two brothers, and a host of other relatives and friends.
A private family memorial was scheduled for Friday outside Lemon Hill Mansion.
Donations may be made in his name to the Gift of Life Donor Program, 401 N. Third St., Philadelphia, Pa., 19123.