Data: 65 new positive test results reported, mostly male, 1.2% positivity rate; 503,076 PCR tests issued in NH; new school reports; more.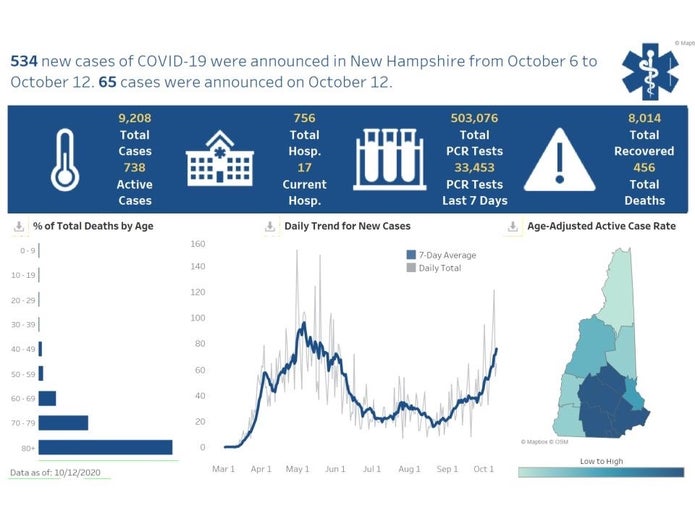 CONCORD, NH — The state of New Hampshire crossed over the 500,000 polymerase chain reaction test threshold Monday with another 65 residents, including 10 children, contracting COVID-19, according to state health officials.
After collecting nearly 4,900 specimens Sunday and waiting on nearly 900 test results, the State Joint Information Center reported a 1.2 percent positivity rate for Monday. About a third of the new positives came from antigen tests while the rest were polymerase chain reaction tests. The state has collected 503,076 PCR tests while testing 295,921 people.
Currently, there are 738 Granite Staters who have the virus, 9,208 accumulative cases, and 8,014 recoveries. Seventeen remain hospitalized receiving more extensive case and more than half of the new cases were male.
Of the new infections, 22 live in Rockingham County, 12 live in Nashua, 10 live in Hillsborough County outside of Manchester and Nashua, and two live in Merrimack County.
Nashua has the most active cases — 96, following by Bedford and Manchester with 89, and Warner with 36. Merrimack has 19 cases and Salem has 13. Hampton has 11 with Amherst, Exeter, and Londonderry at nine, and Concord, Portsmouth, and Windham have eight. North Hampton has five cases Milford has between one and four active cases.
Approximately 3,500 people are under public health monitoring.
Because of new cases, Belknap County has moved from minimal community transmission to moderate on the community level transmission metrics data page. The entire state of New Hampshire is in the moderate category due to 66.5 cases per 100,000 during the past two weeks. The seven-day PCR counts and hospitalization rates are still in the minimal section statewide. Both Manchester and Nashua are in the substantial metrics category.
---
New K-12 school infections including one case at the Paul A. Smith Elementary School in Franklin, a second new case at Londonderry Senior High School, the first case at Franklin High School, and the first case at the Granite State Arts Academy Charter School. The Ellis School in Fremont also has its second case and the Chester Academy has its second case, too.
According to the state's data dashboard, 57 K-12 schools have active student or staff positive test results.
ALSO READ:
Stop The Spread Of COVID-19
The COVID-19 virus is spread through respiratory droplets, usually through coughing and sneezing, and exposure to others who are sick or might be showing symptoms.
Health officials emphasize residents should follow these recommendations:
Avoid any domestic and international travel, especially on public transportation such as buses, trains, and airplanes.
Practice social distancing. Stay at least 6 feet from other people, including distancing while in waiting areas or lines.
When you can't practice 6 feet of social distancing, wear a face covering.
Anyone who is told to self-quarantine and stay at home due to exposure to a person with confirmed or suspected case of COVID-19 needs to stay home and not go out into public places.
If you are 60 years or older or have chronic and underlying health conditions, you need to stay home and not go out.
Avoid gatherings of 10 people or more.
Employers should work from home as much as possible.
There is increasing evidence that the virus can survive for hours or possibly days on surfaces. People should clean frequently touched surfaces, including door handles, grocery carts and grocery basket handles, etc.
Take the same precautions as you would if you were sick:
Stay home and avoid public places.
Wear a face covering.
Cover mouth and nose when coughing and sneezing.
Wash hands frequently.
Disinfect frequently touched surfaces.
More information from the .
Guidance to schools can be found .
Instructions for returning travelers to self-observe for symptoms of COVID-19 are available .
For more information on COVID-19 in NH, visit .
For the latest information from the CDC, visit .
To access the state's COVID-19 data dashboard, .
To access the state's COVID-19 Interactive Map Dashboard, .
Got a news tip? Send it to tony.schinella@patch.com. View videos on .