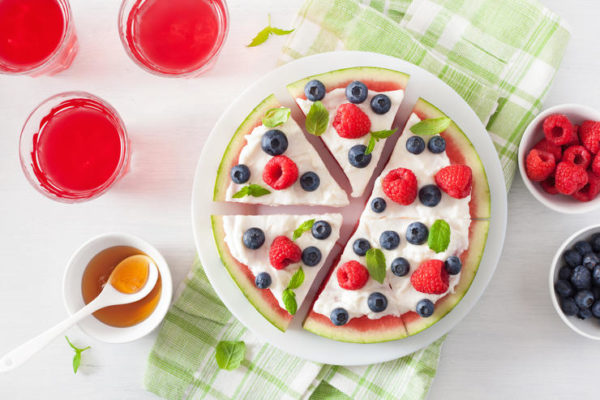 Jess Richardson | Jul 5, 2019 Food & Party
We love this recipe for watermelon fruit pizza, which kids can make for themselves (after the watermelon's been sliced). It's a smart way to get kids to eat fruit and get some Greek yogurt in. For those with a serious sweet tooth, drizzle a little honey over top!

What can we say, kids love a pizza. These use portobello mushroom caps as a base instead of using a crust, which is perfect for moms because they're easy as heck, and works for kids because they're super-tasty personal pizzas!

Choose a Greek yogurt — 0%, 2%, or full-fat, whichever is the best fit for the family's needs — and simply mix it with powdered ranch mix, and there's a high-protein, low-carb way to make chopped veggies like carrots, celery, bell peppers, and sliced zucchini absolutely delicious (and kid-friendly).

When spinach is chopped finely enough, it basically melts into the sauce — kids can't taste it, and they get to have their favorite spaghetti night. Boost the veggie content even further by subbing out pasta for zucchini noodles.

These are the easiest treat for summer, and kids and adults love them because the grapes get so incredibly sweet in the freezer! They're also incredibly soothing and cooling. Only give to kids who are old enough to chew a whole grape and not choke on it!

For DIY pizza night, make cauliflower pizza crusts or buy them at the store. It's a healthy choice that adds some veggies — and the pizza can be topped with extra veggies, too! This is a smart way to use up leftover veggies in the fridge that are about to go off. 

Yes, normally we'd say that fries aren't exactly what we mean when we're trying to get kids to eat more veggies. That said, baking thin-sliced sweet potato with a few sprays of avocado oil and some seasoning are fairly healthy. Check out this recipe.

Double down on the veggies by making a rich, indulgent guac — all that's needed is a few ripe avocados, a lime, and some chopped garlic, if the kids are OK with garlic. Then, slice up some veggies and serve! 

We know, it sounds impossible, like something a total health food person says and nobody really believes, but just trust us: banana ice cream is real. We love it plain — just a frozen banana pureed in the food processor — but we also love healthy mix-ins, like cocoa powder, cinnamon, peanut butter… name it! 

Make homemade fruit popsicles and know exactly what's going into them — just the healthy, fresh stuff, none of the preservatives! Plus, they're a fun treat to make at home with the kids — it's an afternoon project to do with them.

Yes, these are a little extra, but the truth is, those gigantic carrots at the grocery are so much cheaper than the little baby ones, and they can be made into even more fun shapes with these veggie cutter stamps.

Kotobuki Set of 6 Small Stainless Vegetable Cutters ($12, Amazon)

Kids love a good taco night, and tacos can be one way for them to enjoy eating some more veggies. Make some fajita veggies in a cast iron skillet (just slice and sear on high heat — that's all there is to it!), chop some romaine or iceberg lettuce, offer olive slices from the jar, sliced tomatoes, onions, sauteed mushrooms … whatever!

We don't know any kids who turn down mac and cheese for dinner, but it's not the healthiest option. This absolutely delicious roasted vegetable macaroni & cheese is creamy, lighter, and packed with veggies for a healthier twist. 

Buy some fresh berries and then make a DIY "magic shell" topping for them. This is a great recipe, but really, just melt chocolate with a little coconut oil for magic shell to happen — the chocolate hardens onto cold fruit just like on ice cream! 

Combine fruits and veggies in a smoothie, like this wonderful kale pineapple healthy breakfast smoothie. Pineapple especially helps cut through the bitter taste of kale, and makes for a tasty breakfast treat. 

Kids are way more likely to eat food they helped prepare — there's just so much pride in getting to taste food they helped make! Bring them in and ask for assistance on veggie-heavy nights, give them some agency over the situation (ask them how much oregano they want to use, for example) and watch them eat plenty of veggies.

We absolutely love pickles, and so do kids. Unfortunately, cucumber pickles deliver little else than salt, nutritionally. But check out these pickled green beans: dilly beans, which kids can help make (it's a fun project!). 

For veggies, make a simple yogurt dip by combining a packet of ranch dressing mix or French onion soup mix with 0% Greek yogurt, and for sliced fruit, make an easy fruit dip with vanilla extract, honey, and 0% Greek yogurt.