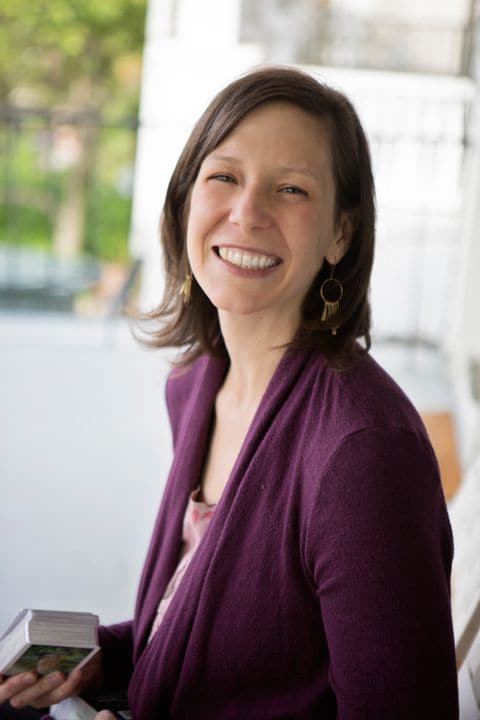 In D.C. Dream Day, our favorite people tell us how they would spend a perfect day in the District.

D.C.-based wellness coach Gracy Obuchowicz believes self-care isn't selfish. (Ann-Marie-VanTassell./Ann-Marie-VanTassell)
Taking time out for meditation and yoga may feel self-indulgent at a moment when the world seems to be falling apart, but caring for yourself and caring for the world are two sides of the same coin, says Gracy Obuchowicz, 37, a wellness guru who grew up in Northern Virginia and now lives in Brookland. That's also the main message of her new book, "selfcarefully." "It's about how to be deeper in your self-care and braver in your social activism," she says. "If you're hitting the sweet spot, one grows naturally out of the other." For her dream day, Obuchowicz has imagined a full, nourishing itinerary of food, nature, exercise and cool commodes.
The first part would be waking up and somehow magically having lattes from Filter Coffeehouse & Espresso Bar and chocolate croissants from Bonaparte Breads — they are so rich and decadent. I'd hang out with my toddler, Jonah, and my husband, Micah, and just have a slow morning around the house.
There's a homeless services program in the Columbia Heights area called Thrive DC — I started teaching a yoga class there more than 10 years ago and now I'm on the board. I'd go and serve breakfast and connect with the clients and the staff and be a part of that community. I really love the work they are doing.
For lunch, I'd go to a South Indian buffet outside of Silver Spring called Woodlands restaurant. I'd get their dosas, which are fermented rice batter made into huge crispy pancakes and filled with potatoes and onions and then served with a coconut curry.
Then we'd go to the U.S. National Arboretum and check out whatever's in bloom. I really love the azaleas and the Youth Garden, which, right now, is filled with huge butterflies.
We'd have to go to the Langdon Park Pool. It's a great intersection of a lot of different communities. I always meet someone new when we go there, and it's a huge form of self-care for me to watch our kids gleefully play in the water together.
I'd also take a yoga class, and there's a really good one at Willow Street Yoga Center in Takoma Park, Md., taught by Francesca Cervero. Her class is challenging and she's very alignment-focused. I'm a yoga teacher, so I'm really picky about who can take my body through these exercises, and I always feel so balanced after her classes.
Then I would have dinner with my family. We'd go to Thip Khao in Columbia Heights. They have this fried watercress salad that's served with mangoes and cashews. I'd also get the khao poon; it's a tofu coconut curry. I think it's the best restaurant in D.C.
Afterwards, we'd get dessert at Momo Yakitori. It's a Japanese restaurant and they have this giant charred marshmallow that comes with a sweet, black sesame seed paste. Oh, and I don't know if this is weird to mention, but they also have these amazing toilets — imported toilets from Japan. The seats are heated and they send you off with a warm breeze. I just think everyone should go experience these toilets.