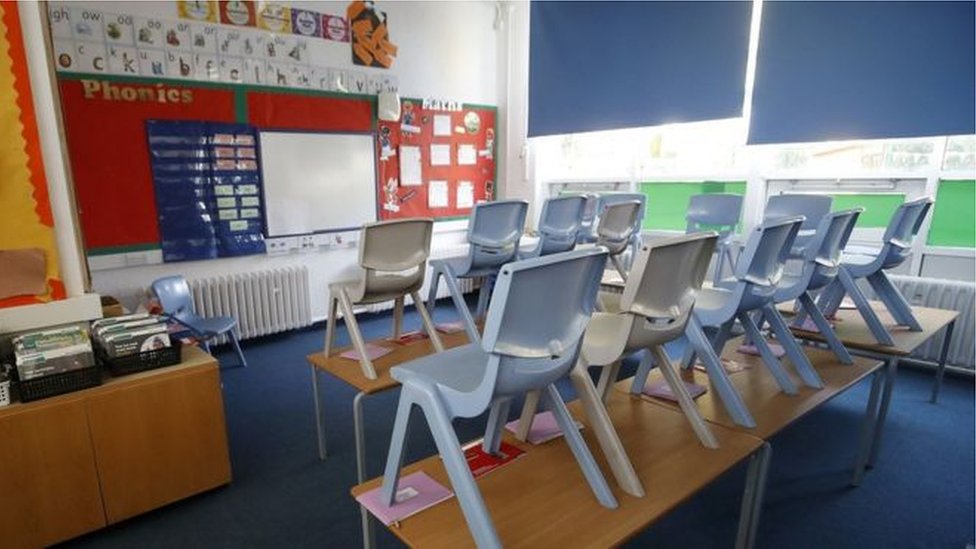 By Robbie Meredith
BBC News NI Education Correspondent
Related Topics
Essential services for many young people with disabilities "went to zero overnight" due to lockdown, a Stormont committee has heard.
MLAs were told that as a result, some children had harmed themselves and injured their parents.
Donna Jennings, from the Evangelical Alliance, said the need for help increased, "but services disappeared".
Ms Jennings told MLAs on the education committee about the impact of that on children with disabilities and special educational needs, including her 12-year-old son Micah.
'He requires routines'
Micah is autistic, non-verbal, exhibits challenging behaviours and has a sleep disorder.
As well as special educational needs, many children like Micah also have a care plan which allows their families some respite, including overnight stays.
"He requires routines, familiar people and places to make sense of his world," Ms Jennings said.
"These services are essential in order to keep our families in one piece, including siblings, and to let us care for our children at home for as long as possible, which is what we want.
"What happened over lockdown – the need increased but the services disappeared."
'Mental health dropped'
Ms Jennings said Micah's routines, therapies, help with behaviour management, education and respite "all went to zero overnight".
"For Micah and many children like him, anxiety levels soared, mental health dropped.
"Children were putting their heads through windows, breaking their parent's arms."
"I would say my family and families that I know got an average of two to three hours sleep per night for seven months – as well as holding jobs, as well as home schooling, as well as caring for Micah one-to-one."
Asked by the committee chairman, Alliance MLA Chris Lyttle, how a family could cope on so little sleep, Ms Jennings said it was "hard going".
"Lack of sleep is not new to us, but this was hard going and it's not two to three hours of sleep where you're lying in bed awake, the rest of the night you are physically with your child in a very physical capacity," she said.
'Distressed behaviour'
Shirelle Stewart form the National Autistic Society NI said that, due to the closure of many services, many families had been left to care for distressed children and young people on their own.
"A lot of our young people became very mentally unwell and this resulted in distressed behaviour which meant that there was an awful lot of damage to our houses or to ourselves," she said.
Ms Stewart also said little planning had been done for what would happen if schools and services closed again.
"With the closure of schools, the children and young people that we represent are off school again," Ms Stewart said.
She said the removal of routine and structure had an impact on both children and adults with autism and other complex needs, whose day centres had closed.
"It has a really detrimental crisis resulting in extreme mental health problems and distress," she said.
"There doesn't appear to be any planning in place if school closures happen again."
'Sector laid bare'
"We've been talking about a second wave since the first wave and now we're in that place and there doesn't seem to be anything planned for these young people and children."
She said the whole sector was "really laid bare under this pandemic".
The deputy chair of the committee, Sinn Féin MLA Karen Mullan, was also critical of the lack of support for families from health services.
"The schools closed but they disappeared as well," she said.
The SDLP MLA Justin McNulty said children had been "failed" and their families needed to know that support would be provided in the event of future lockdowns.