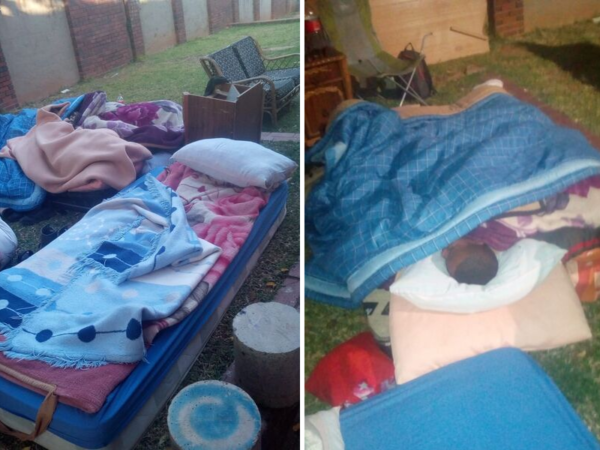 A Silverton woman has detailed the trauma of sleeping on the streets with her children after being kicked out of her rented flat.
On Saturday, Irene Kock (43) said she received a call from her hysterical children telling her that their belongings were being thrown out.
"I was at work… I couldn't believe it," she said.
"I quickly rushed home and found about 10 men tossing out our furniture, clothes and food."
When she tried to ask why her belongings were being thrown out, she was met with hostility.
"I kept asking what was happening and they ignored me," Kock said. "One of the men even got physical with me."
With no place to go, the single mother and her three sons spent two nights sleeping under a tree with no food to eat.
"It was the worst experience of my life. I didn't know what to do," she said.
"I was so scared that we would get robbed or that we would get hurt."
The family spent the two nights sleeping outside the block of flats with their belongings, some of which she claims were broken during the ordeal.
"I could not even go to work trying to figure where we were going to go next," she said.
"It hurt me to see my three boys in that situation, but I was lucky because their protective nature kicked in."
Kock said she and her husband were renting the flat from a local ward councillor since February, and had been paying R3 000 rent diligently.
"More than two weeks ago, inspectors from the council's human settlements came to the premises and told me that according to records, the flat was vacant," she said.
"I told them that I know nothing about that and that I am just renting from a councillor."
Kock said she referred the representatives to the couple she believed owned the flat.
"Things started getting tense from there. They asked me why I gave the inspectors their contact details and I explained that it was because they were the owners of the flat," she said.
"I did not understand why they took offence."
Kock said the visit by the inspectors was fuelled by speculation that there were a lot of people who were illegally occupying the block flats and she was suspected of being one of them.
She said she may have seen some signs when her "landlords" kept stalling when she asked them for a contract to sign and an account number to pay the monthly rent into.
"Look where I am now," she said.
"I had already paid my rent for the month."
A good Samaritan has since reached out to the family to offer them temporary shelter.
Kock said since the eviction she spends close to R100 a day for her children to travel to school in Eerserust.
Ward 43 councillor Benjamin Lawrence said the department of shared corporate services was investigating the allegations.
Do you have more information about the story? Please send us an email to [email protected] or phone us on 083 625 4114.
For free breaking and community news, visit Rekord's websites:
Rekord East
Rekord North
Rekord Centurion
Rekord Moot
For more news and interesting articles, like Rekord on Facebook, follow us on Twitter or Instagram