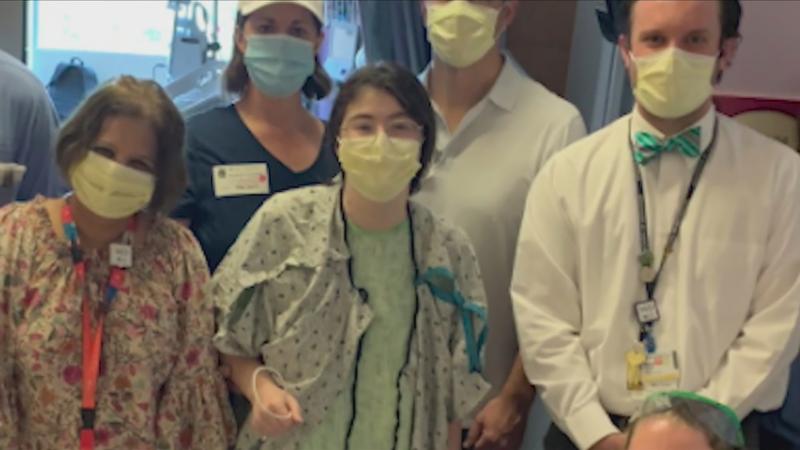 18-year-old Maggie Giordano was born with a rare genetic condition called Crigler-Najjar Syndrome (CNS) which prevents her body from producing enough liver enzymes.
As a baby, she had to sleep under fluorescent lights for eight to 12 hours per day to prevent jaundice, hearing and memory loss. As she's gotten older, her condition has worsened.
"I couldn't participate in clubs giving it my all, when friends were hanging out I had to sometimes hold back you know, I can't sleep over," she told News10NBC.
Giordano had to do blue light therapy every day, which made her consistently sick and fatigued. She was a senior at Pittsford-Southerland in the spring, taking AP courses when things went from bad to worse.
"There was twice in less than 30 days when my life was at risk so, we're like we need to get a transplant right now," she recalled.
Since birth, Giordano had been treated by specialists in Pittsburgh but last year, she met Dr. Nanda Kerkar. Dr. Kerkar had been recruited by Golisano Children's Hospital to start a pediatric liver transplant unit.
"Many people who are born with her condition need a liver transplant right in infancy in the first year of life," Dr. Kerkar explained.  
Because Rochester-area hospitals were allowed to restart elective surgeries sooner than those in the New York City area, a liver became available in late June and Giordano was the first pediatric patient at Golisano to get a transplant with the help of URMC's transplant team.
"I'm doing this surgery during COVID, it's my first case everyone is going to look at it under a microscope," says Dr. Kerkar of the decision to move forward with the transplant.
Within a week, Giordano was out of intensive care and able to continue her recovery at home.
"You know as a teenager, you're conscious enough and then you're deep yellow… her color was like a brownish yellow and if you look at her complexion just a day after surgery she was just a changed person…The first thing the dad told me was you know Maggie is quirky again, all the sense of humor the bubbliness," Dr. Kerkar recalled.
A month after surgery, Giordano was able to attend her high school graduation. She's looking forward to starting college next year and Dr. Kerkar is looking forward to growing the pediatric transplant program to help more people like Giordano, with liver disease.
Golisano Children's Hospital does not yet have the capability to perform liver transplants on younger kids.
The reason they were able to do this was that Giordano was 18 years old at the time of her surgery and they were able to collaborate with the adult UR Medicine Transplant Team.