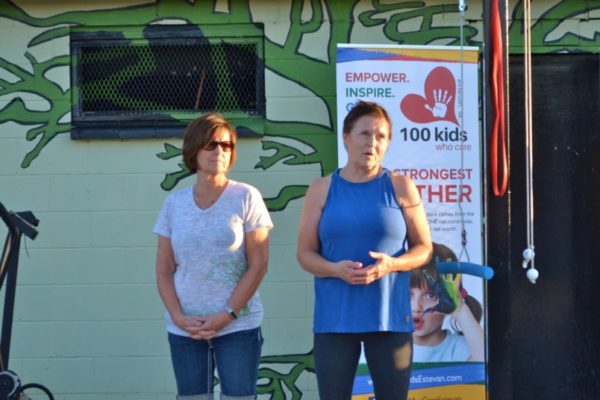 Fresh Air Fitness co-founders Debby Knight and Peggy Rohatyn at 100 Kids Who Care meeting.
Fresh Air Fitness is having a great finish to its 2019 season, thanks to a donation from a recent event and an important upcoming fundraiser.
The organization received $5,500 from Fire Sky Energy, which was raised during the local energy company's golf tournament last month.
article continues below
Co-founders Debby Knight and Peggy Rohatyn said the money will be used for upgrades to their site inside Woodlawn Regional Park, such as the purchase of a new addition to the yoga platform, but they aren't announcing specifics just yet. They also have a new structure for testing upper body and arm strength.
It's been another busy year for Fresh Air Fitness. In addition to offering outdoor fitness on a daily basis, they held the inaugural Force Fitness Challenge in conjunction with the Rafferty Rumble activities in Estevan.
They also hosted several activities involving children. The park had day camps for local youths during the summer months for the first time, and Fresh Air Fitness was among the sites used.
The Regional Kids First program was there during the summer, and the 100 Kids who Care organization made use of the site for their September meeting.
"The kids really seemed to like doing that," said Knight.
As for equipment additions, a squat rack has been brought in, and they also have a sled and a handicapped-accessible swing. Pathways to the site will be paved to make it more accessible for those in wheelchairs and to improve appearance.
Also new for this year are a log balance structure, a cargo net wall, tai chi wheels and a tire wall.
A donor wall sign is also going to be added. Knight and Rohatyn hope it will be in place before the end of the year.
Run the Course, which is one of their big fundraisers of the year, will happen Oct. 19 at 10 a.m. at the TS&M Woodlawn Golf Course. Participants will have the choice of running or walking the pathways on the front nine holes, all 18 holes, or a distance of 10 kilometres.
Rohatyn said it's preferred for people to register in advance, so that they know how many people will be there, but people can also sign up the day of the run.
"We issued a Community Hero Challenge this year, and we sent out a challenge to the firefighters, the emergency medical technicians, the Canada Border Services Agency customs officers, the city police and the RCMP to see which group could have the most register."
The winning group will get 70 per cent of registrations from those five groups to give to a charity of their choice. It is hoped the law enforcement personnel and first responders will show up in uniform.
Run the Course is a non-competitive event, and if someone chooses to stop before completing only a few holes, or if they choose to go longer than expected, then that's all right, they said.
Fresh Air Fitness will also be part of the annual Festival of Lights display at Woodlawn Regional Park, which will be taking place in December and early January.
© Copyright Estevan Mercury
Locals learn about the fire department
Will you get a flu shot this year?