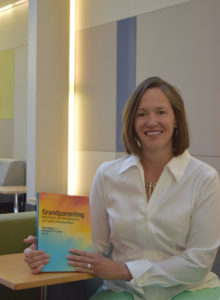 Christine Fruhauf, a professor in the Department of Human Development and Family Studies and the director of HDFS Extension programs and initiatives, has always been interested in grandparenting relationships and dynamics. Her research projects and expertise have now been applied to the recently published book Grandparenting: Influences on the Dynamics of Family Relationships, for which she served as co-editor.
Researching the best care for care providers
Fruhauf's research for most of her career has been focused on different aspects of grandparents raising grandchildren, sometimes dubbed "Grandfamilies."
"Grandfamilies are a rapidly growing and vulnerable family type where grandparents become guardians of their grandchildren, usually due to substance abuse, justice, or child-welfare issues related to the parents," Fruhauf said. "We are striving to learn more about the dynamics of this family structure, and how to organize collaborative community services to support them."
GRANDcares Project
Fruhauf has been at the forefront of studying both issues. She and her research team are currently working on a project called GRANDcares which focuses on implementing and evaluating programs encouraging self-care in grandfamilies, where grandparents or other kin are raising their non-biological children. The programs, funded by a USDA National Institute of Food and Agriculture – Children, Youth and Families at Risk grant, cover various aspects of health in these grandparents and evaluate the programs' effectiveness.
Fruhauf's lab works in collaboration with a program at the University of Hawai'I at Mano, where they are implementing the same programs with their local population of grandfamilies. Outcomes are promising, as researchers are seeing significant improvements in depression rates, knowledge of services available, community support of grandparents who take the program, and caregiver confidence.
The research teams are also seeking to increase the knowledge of service providers who are working with grandfamilies. There is now a series of pre-recorded webinars on the GRANDcares website that seeks to improve knowledgeability, and an accompanying short survey that asks service providers about their understanding of the information provided after watching the webinar.
In addition, Fruhauf's team has started a pilot program for 9- to 12-year-olds who are raised in grandfamilies. The program tries to encourage things like leadership, self-respect, problem solving, and self-esteem. This portion of the research only started last year, but has already shown encouraging results.
"The grandchildren say they learned a lot from the course, and they are really excited about seeing each other. It is a great place for them to make friends with other children from grandfamily homes," explained Fruhauf.
Fruhauf also works with minority communities to document and investigate their unique experiences as grandparents. In particular, she has done a lot of work with the LGBTQ community to look at how the coming out process is affected by grandparent and grandchild relationships.
Book examines grandparent experiences and trends
Fruhauf's book, Grandparenting: Influences on the Dynamics of Family Relationships, coedited with Bert Hayslip Jr., professor emeritus at the University of North Texas, is a resource for those studying family relationships and gerontology. The book investigates and documents current and predicted trends of grandparents in the United States and abroad. With contributions from internationally recognized scholars in numerous fields, the interdisciplinary book examines the roles of grandparents from multiple perspectives.
One of the primary goals for the book had been to update research and concepts reflecting trends over the past 20 years in which the role of grandparents has been redefined.
"I wanted to highlight experiences that weren't discussed in previous books on grandparenting," she said. "So we investigated different kinds of intersectionality, such as age, gender, and race and ethnicity. I also wanted to make some invisible populations and experiences more visible, including the experiences of LGBT older adults, as well as the experience of grief and loss after the death of a grandchild."
Fruhauf was also a contributing author to chapters on "Grandparenthood and Sexual Orientation" and "Grandparents Raising their Grandchildren."
Another chapter Fruhauf is especially proud of covers non-grandparent relationships. In this case, an individual might have children but has no grandchildren. The book investigates how individuals seek out and develop grandparent-like roles in their communities, and how they seek to make an impact on the lives of young people.
More about Fruhauf
Fruhauf is a member of the Provost's Council for Engagement at CSU, and was recently recognized with the College of Health and Human Sciences Outstanding Engagement Award. Fruhauf helped launch the Larimer County Alliance for Grandfamilies in 2007. She also serves as the coordinator of the Gerontology Interdisciplinary Minor at CSU.
The Department of Human Development and Family Studies is part of CSU's College of Health and Human Sciences.