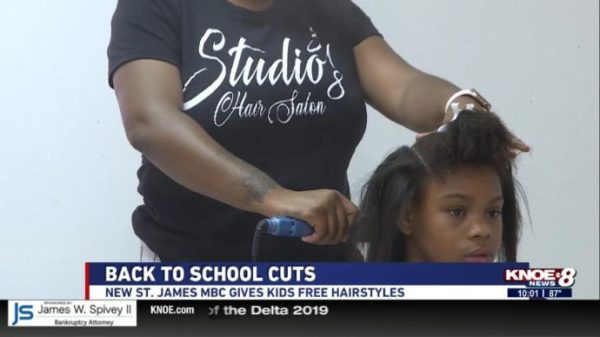 RICHWOOD, La. (KNOE) – New Saint James Missionary Baptist Church held its Back to School Rally on Sunday. The church gave out more than 100 pairs of shoes, pants and shirts ahead of the new year. The kids also got the back-to-school hair styles to match.
New St. James M.B.C. made sure kids looked their Sunday best for the new school year by offering free hair cuts and hairstyles. (Source: KNOE)
Derick Morrison was one of several barbers who helped give haircuts. He says it's always great to give back.
"I got a skill that I can give back to someone who needs it," Morrison says.
Vicki Hill owns Studio 318 Hair Salon. She says helping young girls look their best on the first day of school was something she had to help with.
"I just knew that that was a good thing to do as far as kids going back to school and need those types of things," Hill says. "So, yeah it's always something that I always wanted to do."
Drika Smith also works at Studio 318. She remembers the importance of making a great first impression for kids.
"You used to have your clothes laid out at night ready for the first day," Smith says. "So, I think this is a big thing for young girls and boys."
Morrison knows it's important to have a fresh look, because it not only provides confidence, but also leaves a lasting impression on others.
"I'm from this community. I believe that having a haircut, having a good image period is very important, especially no matter what age group you are," Morrison says.
He says a good image requires the total package.
"[Got to] have the best outfit, make sure the lines straight, waves on point. [Got to] to take care of everything."
The event also gives him another chance to enlighten the young people.
"Teach them about having good hygiene, not just with the hair but self-care as well," Morrison says. "This is our opportunity for us as older people to teach these young people something. Always think about yourself everyday. Your image is very important and keep doing what you're doing."
The church's pastor Rev. Vance Price thanked the community and church members for donating money and supplies to make this event a success for the kids.